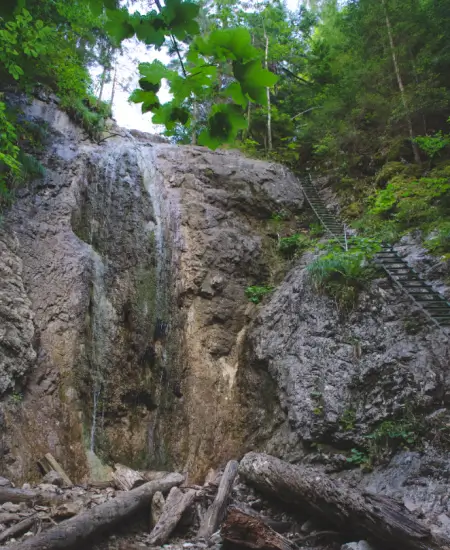 Description
This gorge is a great choice if you are going to the Monastery. It is definitely the best choice of route, because there are several waterfalls, risers and ladders in this gorge. The path through the gorge is accessible only by a one-way hiking trail in the direction of the stream that flows from Kláštorisk. When you reach the end of the gorge, you will have the opportunity to see the Carthusian monastery. This means that you have reached the end of the gorge and arrived at the Monastery. Kláštorská roklina is located between Letanovský mlyn and Podlesko. The route from these two places leads to it through Prielom Hornáda. You can reach the beginning of the gorge from both places in about the same time.
Possible trails
Loop from Ďurkovec via Tomášovský výhľad
Crossing from Podlesok to Letanovce
Crossing from Letanovce to Čingov
Crossing from Letanovce to Sp. Tomášovce
Panorama
Waterfalls
Parking and public transport
Bus
Zastávka - Podlesok, rázc.
Zastávka - Hrabušice, rázc. Betlanovce
Zastávka - Čingov, parkovisko
Parking
Podlesok
Letanovce
Čingov
Ďurkovec
Places that might interest you
7 trails

Ihrík

Vantage point

2 trails

Blajzloch

Point of interest

8 trails

Ferrata HZS Kyseľ

Gorge

5 trails

Klauzy

Point of interest

5 trails

Havrania skala

Vantage point
Trails that might interest you
Sovia skala

From Košiarny briežok and back

Kláštorisko

Crossing from Čingov to Sp. Tomášovce

Veľký Kyseľ

Crossing from Podlesok to Píla

Čertova sihoť

Loop via Biely potok

Tomášovský výhľad

Loop from Letanovce via Prielom Hornádu

Kláštorisko

Crossing from Sp. Tomášovce to Letanovce

Geravy

Loop from Dedinky via Zejmarská roklina